Commentary by Steve Bennack, Steve Pride, Steve Cowell, and Harlan Gilliam.
Edited and additional comments by Control Rat X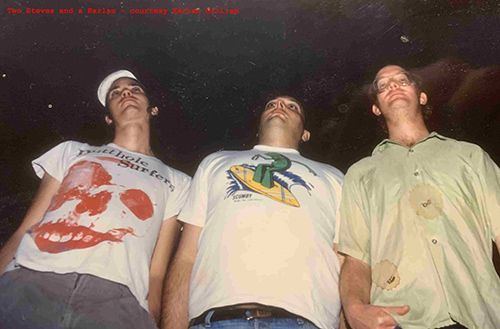 Sensuous Plastique was a band that played more than a few times at Raul's Club. What most people probably don't know is that all of the members were from Alpine, part of the northernmost extension of the Chihuahuan Desert and the gateway to the Big Bend. Even more fun is that the band was made up of Steve, Steve, Steve, and Harlan. 
Alpine was and is still a small town. In the late 1970s, it had no stoplights – only a flashing light on its main street, Holland Avenue. It's got lights now, unfortunately. 
Harlan Gilliam founded Sensuous Plastique as the Side Effects in the Fall of 1979 in Alpine. The original lineup was Steven Bennack- Guitar & Vocals; Harlan Gilliam- Vocals; Steve Pride- Drums; and Jack Thetford- Bass. They changed their name to Sensuous Plastique January, 1980 and were playing mostly covers. Thetford left in the Summer of 1980, and Gilliam took up the bass. They spent the summer of 1980 writing original tunes. Harlan Gilliam was the principal songwriter. The band moved to Austin in mid-October 1980 and  made their first Austin appearance in November 1980 at the Generic Party @ 6th and Neches. Their first gig at Raul's was in December 1980. According to Steve Bennack, they got into Raul's w/ help from Chris Wing of Sharon Tate's Baby (Gilliam did a couple of bass gigs w/ STB.) Steve Cowell, also an Alpine native, took up bass in the Spring of 1981. 
Sensuous Plastique, later shortened to SenPlas, found a welcoming community in Austin and the guys can speak for themselves.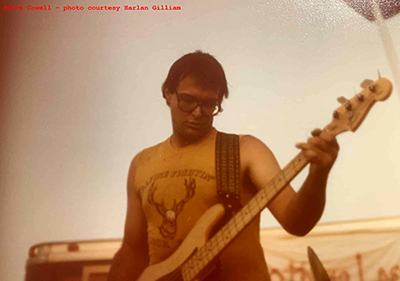 Harlan Gilliam: 
I remember when we first heard of Punk Rock it was in Creem magazine. There were photos of some punks and a description of this new DIY music scene. As we were all in college studying music (Sul Ross State University) we were primed for this new sound. The problem was that we really had not heard any of the music. I cut my hair and started modifying my clothes. We started out playing covers- some new , some old. We did a sleazy version of "Batman." We were also influenced by an English band called Fashion Music. I think their band name influenced the foreign-sounding name Sensuous Plastique. Sensuous- earthy, human word.  Plastique- modern, artificial. 
 Without a scene to guide our formation, we were completely free to define ourselves as we pleased. Sure, we had some sleeveless t -shirts and safety pins but the music was completely original. Having spent the last two years studying music theory, harmony, and counterpoint, I immediately began to write with the shredding of all expected norms as a guide. Steve Bennack wrote, as well, bringing classics such as "Selling Texas to the Yankees,"" John Travolta Makes me Sick," and "Guitar God." We practiced in a storage locker for a while and I remember bringing Holiday in Guyana and it's Just a Phase on the same day. The cops came to shut us down. We held a punk dance in Alpine at The Toltec, which was a dive bar mostly frequented by older Hispanic men. The usual bar patrons seemed shocked, then amused as we invaded their territory. Some came and danced with the young, crazy people who had dressed as" punk" as they could. 
 Once we moved to Austin, I went to Raul's and talked to the manager. He listened to some of our demo (recorded in the band hall at Sul Ross) and said he definitely had a place for us. I thought that we had surely taken our first step to fame and fortune. Not so much, but we did have a great time and I have nothing but fond memories of the bands, the fans, and the scene. I also played bass in Sharon Tate's Baby for most of a year and continued to write many songs for SenPlas. A few were actually pretty good. Raul's Club has a very special place in my heart and it's too bad you can't go back because I surely would. 
Steve Bennack has been music faculty and a 'utility musician' at Sul Ross State University for 23 years. He describes himself as a "multi- instrumentalist (keyboards, guitar, upright and electric bass, tuba & trombone):  
I've played classical, rock, blues, jazz & country.  Injected some 20th-century classical/jazz ideas into some Sen Plaz tunes:  whole-tone scales, symmetric scales (Shostakovich), quartal harmony (Hindemith & jazz) and other weird shit.   
Bennack described an earlier band back in Alpine, Boneyard, that lead up to Sensuous Plastique:  
We got a generic coffin from Geeslin Funeral home since they were good friends of the Gilliams.  At a dance we wheeled said coffin on its gurney out in front of the band.  Then we cued up "Also Sprach Zarathustra" from the 2001 A Space Odyssey soundtrack.  Then we started playing Black Sabbath's theme song from their 1st album, "What is this… that stands before me…"  People were watching us through the plate-glass windows of the Alpine High foyer and wouldn't come in for 15 minutes- we were too weird for them! 
Steve Pride was the drummer and backup vocals for Sensuous Plastique: 
Steve Bennack, Steve Cowell and myself attended Alpine High School with me playing trumpet, Bennack playing tuba and Cowell playing trombone; both were a year ahead of me.  I made it back to Alpine to attend Sul Ross focused on a music degree in percussion.  Harlan Gilliam and Steve Bennack were both music majors at the time.  We hiked to top Mt. Livermore in the Davis Mountains where we agreed to form our band.  We enlisted Jack Thetford for bass and began our punk composition journey.  We were on the same page to focus on punk and new wave beginning with covers from XTC, Elvis Costello, Joe Jackson, Police, New York Dolls and so on. Another thing about Boneyard was that Harlan and I were listening to The New York Doll's 1st album although we didn't cover any of their tunes at that time.  It did of course affect our fashion sense.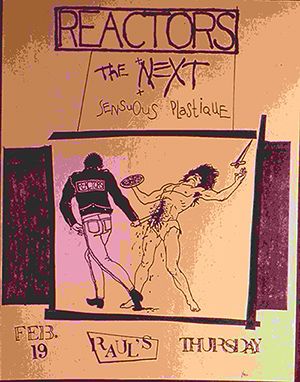 Jack stayed in Alpine as myself, Steve and Harlan dropped out and moved to Austin to try our hand pushing the punk music envelope.  Sensuous Plastique's original compositions included fast, creative songs with relative complexity ranging from various time signatures, deliberate unorthodox solos and theoretically challenging melodies to satirical political and socio damning lyrics.  Songs like Quasar Bugs Are Coming, Wake Up, Fascist Foods, Holiday In Guyana, Test Tube Lover, Child Abuse, Selling Texas To The Yankees, I'm Schitsophrenic, Goverment Strings, Power, Scream, Diseased, I Created A Monster and It's Just a Phase to name a few.  We added Stephen Cowell on bass to expand the sound as a four piece act.  We had numerous performances at Raul's numerous times a couple times a week.  Sensuous Plastique was a departure from other acts that frequently played Raul's with other crowd favorites of the Explosives, Skunks, Big Boys, STB and the Dicks - some leaning more to the theatrical which added to the experience.  SenPlas was the other end of the musical pendulum that helped make Raul's original and inclusive. 
We split SenPlas in 82' with Harlan and myself evolving the sound forming the New Torpedoes for 14 more years performing in clubs no longer existent such as Club Foot, Steamboat and Liberty Lunch.  Raul's will always be a part of us solidifying our desire to write and perform.  I perform to this day (less pandemic period) after many recordings with other Austin bands such as Stonepillow, Bakin' Brownies and now a performing cover act known as Mayors of Simpleton.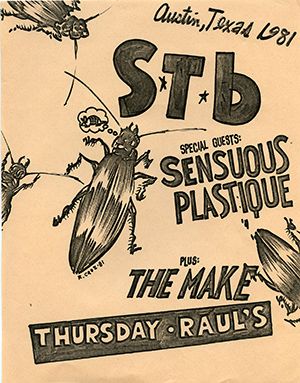 Steve Cowell, multi-instrumentalist, was in two punk-era bands: Sensuous Plastique and FDR: 
I followed my brother (Jeff "Jeffro" Cowell, the Hostages, Rockbusters) to Austin in late '79... crashed on couches to move to the Big City.  The Drag had an immediate draw... babes and head shops etc.  The Armadillo was a reliable source for mind-altering substances, but the Drag was where it was at after you attained bliss.  
The Hole in The Wall was an interesting place, more akin to our old hometown bar... but Raul's was the scene.  It was not just punk... we were more new-wavey, really... Joe Jackson, etc... so the Skunks, the Explosives, were my cup of tea.  I'd talked to my friends back home and extolled the virtues of Austin... they were fomenting some very interesting stuff... they sent a tape ahead and blew our minds... when I got asked to fill in bass it was an immediate *yes*. 
I'd been in bands with Harlan and Steven before... we played a high school prom bringing Harlan out in a plywood coffin, opened with an Alice Cooper tune if I recall right... people were too freaked out to dance, this was '73 I think.  Harlan was the showman, always... I remember going to Tech band camp in '74 and seeing him play with his band Spectre... he had eye makeup on.  Edgy!  They had moved away, then back. 
When SenPlas moved to Austin we were all blown away... they had the act down, and a cassette full of originals to boot.  'Facist Food' was one of my favorites... listening to the 'Reunion' tape now, it was put together in the late 80's... Harlan playing bass, they sounded better that way I think. 
Anyway, I'm grateful for the opportunity to play on Raul's stage... it was a special time and a special place. 
###